Lumineers & Minimal Prep Veneers – Houston, TX
Light Touch, Amazing Results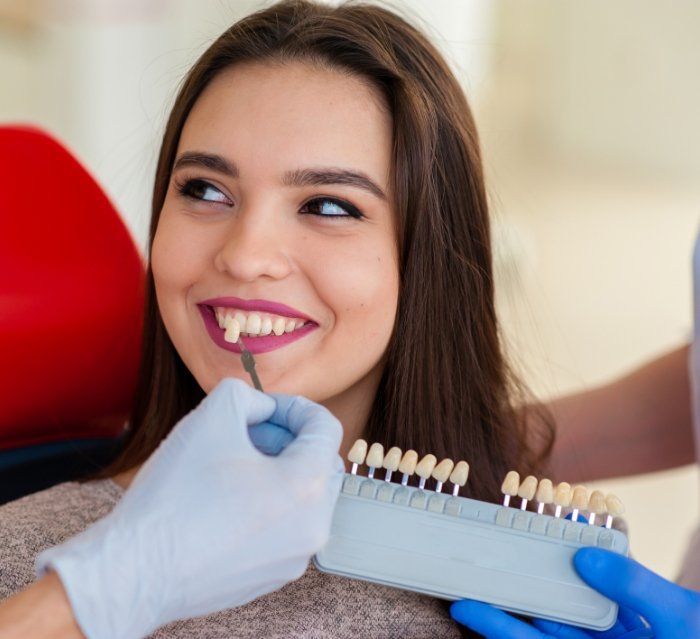 You may already know that dental veneers enhance a smile by concealing flawed teeth and conspicuous spaces, but did you know that existing teeth must be filed down before your dentist permanently applies them? Thankfully, due to new and improved technology, we are now able to remove much less tooth structure than before while still achieving beautiful and lasting results. Dr. Alani is a cosmetic dentist with decades of experience creating personalized makeovers, and she has partnered with one of the leading dental labs in the country to ensure her patients don't just like their new smiles — they absolutely love them!
Why Choose Terri Alani, DDS for Lumineers & Minimal Prep Veneers?
Dentist with More Than 30 Years of Experience
Trusted by Millions of Followers Online
Super Friendly & Professional Staff
Do I Need Lumineers?
Only Lumineers by DenMat take the unnecessary pain out of the equation and allow you to enjoy your new smile immediately. These small wonders safely and effectively hide:
Stained or discolored teeth
Unattractive gaps
Unevenly worn teeth
Misshapen or misaligned teeth
Chipped or cracked teeth
Thanks to Lumineers' unique, ultra-thin design and application method, little, if any, tooth modification is required. Removing this preparatory step means that you won't need an anesthetic, and your dentist can get right to work improving your smile. Each Lumineer is carefully manufactured by the Lumineer Smile Design Studio just for you, using only the finest patented Emax porcelain. These long-lasting enhancements will rejuvenate your smile for up to 20 years!
In just one to three convenient office visits, your dentist can affix the remarkably thin yet durable porcelain shells directly to teeth for beautiful, instantaneous results. The smile of your dreams has never been this easy!
If you suffer from a less-than-perfect smile but are fearful of aesthetic dentistry, choose Lumineers for a glorious transformation without the inconvenience and distress of porcelain veneers.
LumiSmile Digital Preview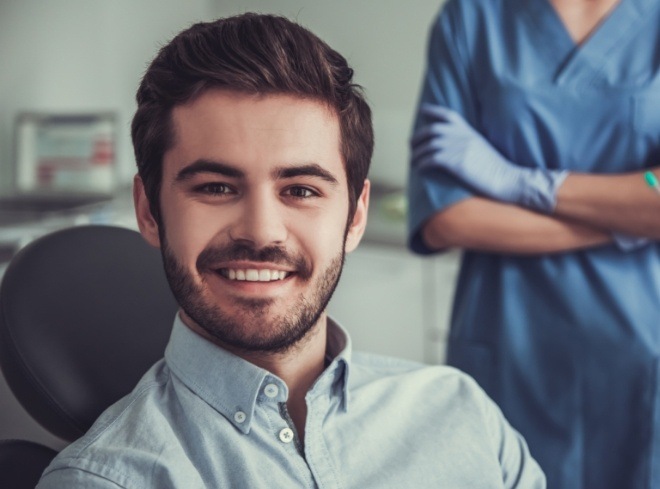 Did you know that you can get a sneak peek of your new smile before having any veneers officially placed? When you visit Dr. Alani, you'll get access to LumiSmile dental digital imaging, software provided by Lumineers. This software shows patients what their smiles will look like after Lumineers are placed!
To accomplish this, all your dentist needs is a picture of your smile to send to one of the many LumiSmile artists who produce the preview. By the end of your appointment, you'll have your photo returned featuring your Lumineers smile.
Minimal Prep Veneers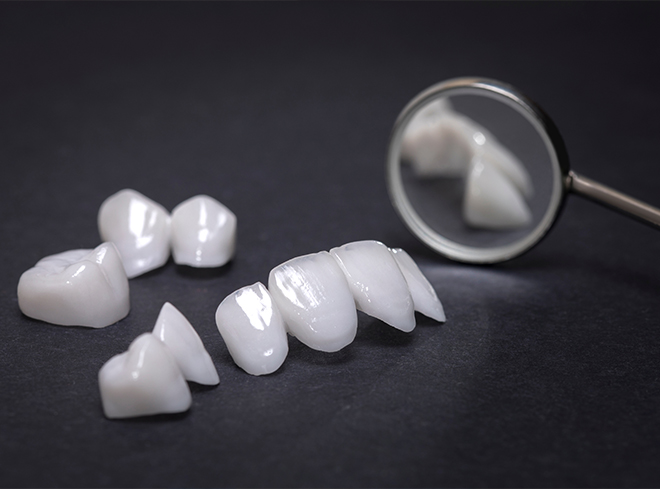 For some patients, smiling with complete confidence can only come with a smile makeover. That's something Dr. Terri Alani understands, and it explains why she offers a popular cosmetic dentistry service like minimal prep veneers. With minimal prep veneers, our Houston cosmetic dentistry team can help you hide chips, stains, gaps, and misaligned teeth, yielding beautiful results that also look completely natural.
Minimal prep veneers work the same way as regular veneers but they're thinner and require less changes to your tooth enamel. Dr. Alani works with a very specialized boutique cosmetic lab to make sure the results are fantastic.
Minimal Prep Veneers Process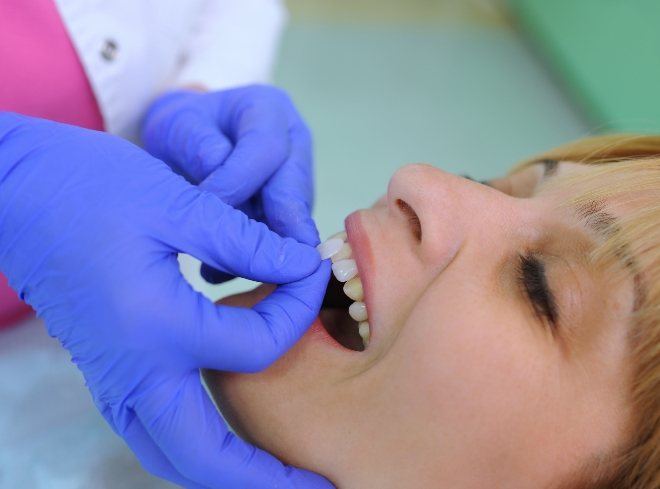 During your first visit with Dr. Alani, she'll complete a thorough oral exam to find out how your smile is doing, and then she'll sit down with you to discuss your cosmetic needs and goals. She'll go over your various treatment options, and if you both decide that minimal prep veneers are the right fit for you, she'll walk you through the treatment plan.
From there, digital scans will be taken of your mouth, and these will be sent to a dental lab to create a custom set of temporary veneers. These will give you a chance to "test drive" your new smile and provide feedback as to what you do and don't like.
About 10 days later, you'll return to our dental office so Dr. Alani can prepare your teeth (i.e. remove a very small amount of enamel so the veneers lay flat). Local anesthesia may be used to guarantee your complete comfort.
Once your teeth are ready, impressions will be taken, and Dr. Alani will also help you choose the shade of your new smile. All of this information will be sent to the lab to create your final veneers.
In two weeks, you'll come in again to have your temporaries removed and replaced with your permanent veneers. If you love them, great, but if there is something you don't like, we will send them back to the lab to make adjustments. If that isn't necessary, you're all done, and your new smile is ready to be shown off!
Veneers Frequently Asked Questions
If you're just now learning about veneers in Uptown Houston, you probably have many questions about the treatment itself. Most people aren't sure if veneers are right for them, which is why we've included a brief section on the most common questions Dr. Alani gets at her practice. We hope that you find them to be useful as you weigh your options for your next smile makeover! If your question isn't mentioned, feel free to give her office a call directly.
Do I have to modify my teeth to receive veneers?
Not necessarily. If you're receiving veneers, you will likely need to because the veneers need room to sit flush. Otherwise, they will look too large on your teeth and look unnatural. Of course, if you'd prefer to keep as much of your natural tooth enamel as possible, you can always consider minimal prep veneers and Lumineers instead!
How long does treatment for veneers take?
From the moment you schedule your initial visit to the moment you receive your new veneer, you can expect treatment to take about two weeks. During the first appointment, we discuss your smile goals, modify your existing tooth enamel, then cast impressions. These impressions are sent to a dental lab offsite, which creates your permanent veneers. During this period, you'll be given temporary veneers so you don't have to sacrifice your smile while you wait. We call this your Trial Smile, where you can try out the new veneers and give us feedback during the process.
Do veneers respond to whitening treatment?
Unfortunately, veneers do not respond to professional teeth whitening. Once you pick the shade and finish the restoration, it stays that way. However, they can be redone if necessary. They can also be cleaned of any surface stains. If you want to keep them looking as white and bright as when you received them, always practice daily oral care and visit our office once every six months for a routine dental checkup.
Can I use whitening toothpaste to remove stains from veneers?
While many people may think that whitening toothpaste can effectively remove stains from veneers, it can actually be quite problematic. Whitening toothpaste typically works to remove stains from abrasive tooth enamel, but it only wears down the glaze from veneers, which is designed to protect them from stains. This is why we recommend sticking to traditional toothpaste when practicing your daily oral care routine.
Can veneers develop tooth decay?
The veneers we provide are made from porcelain, which is 100 percent inorganic. Because of this, the veneers themselves cannot develop decay because bacteria cannot effectively break them down. With that said, the tooth underneath the veneer can still develop decay. Do not think that just because you have a veneer covering your natural tooth that now you don't have to brush and floss. The same logic applies to any type of restoration.