Veneers – Houston, TX
Achieve a Smile You Love to Show Off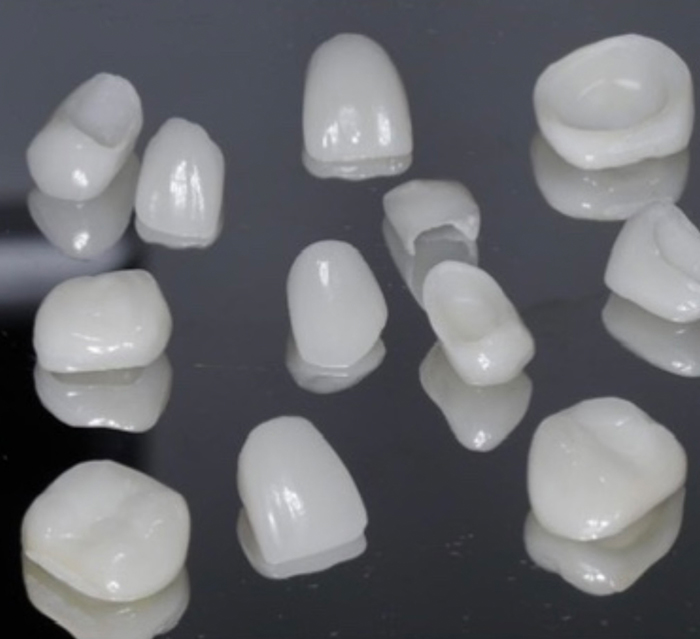 A beautiful smile speaks when you dont. It can say a thousand kind things, from "it's nice to meet you" to "I love you more than words can express." A beautiful smile lets others know that you're approachable, and it can even make you look younger than your real age.
But what if your smile's message gets lost behind unattractive teeth? Your cosmetic dentist, Dr. Terri Alani, offers several treatments that aim to vanquish those aesthetic flaws and help you feel confident about what you see in the mirror. One of those treatments is veneers in Houston. Let's talk more about how these custom tooth covers may be able to put a new spring in your step and a new sparkle in your mouth.
Why Choose Terri Alani, DDS for Veneers?
Cosmetic Dentist with 30+ Years of Experience
Placed over 55,000 Veneers
100% Custom-Made for Each Patient
What Are Dental Veneers?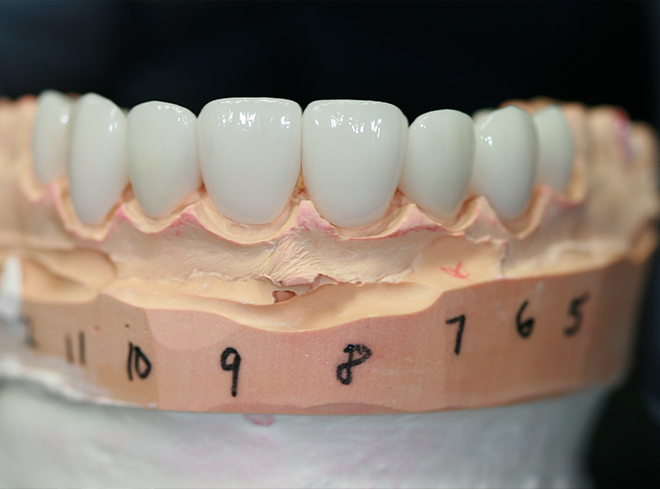 Dental veneers in Houston are very thin pieces of porcelain that your dentist bonds to the front of your teeth, thereby disguising aesthetic flaws. It is possible to get just a single veneer to cover a particularly unsightly tooth, but some patients choose to get anywhere from four to ten veneers to achieve a complete smile makeover. Most often, veneers just go on the top teeth, but it's also possible to install them on the bottom.
It's important that you don't confuse veneers in Houston with dental bonding. Bonding is a separate cosmetic dentistry treatment. It also helps to improve teeth's appearance by covering flaws, but it uses a composite resin instead of porcelain. Therefore, it is not as strong as veneers. It's usually used to fix just one or two teeth and not to affect a dramatic, whole-mouth transformation.
The Process of Getting Veneers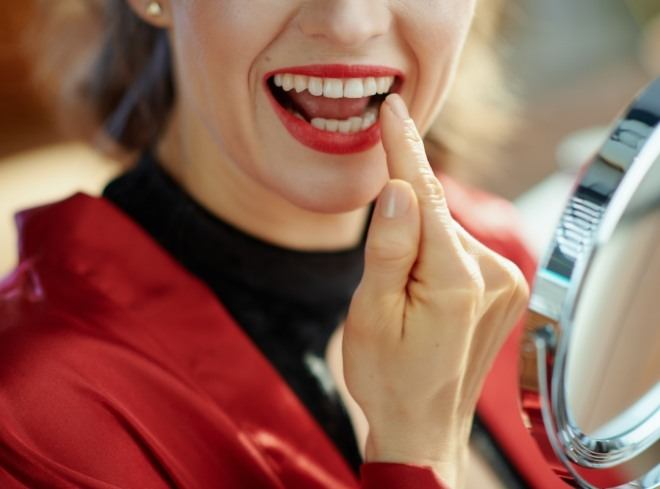 Here is a quick look at how the veneer installation process works:
First, we plan your treatment. We make sure that your teeth are healthy enough to support veneers, talk about what you want to accomplish, and use a shade guide to select the perfect color for your new smile.
We prepare your teeth. This involves removing a tiny bit of enamel so that your veneers don't look bulky or unnatural. We may numb you for this part of the process, so you're unlikely to feel any discomfort at all.
We take impressions and photographs of your teeth. These serve as the guide that helps our experienced cosmetic lab to create your custom tooth covers.
We have the lab design custom made temporary veneers, which act as a trial smile, enabling you to see the final outcome. We make any necessary final adjustments to the veneers and then attach them. You walk away feeling like a million bucks!
The Benefits of Veneers
Dr. Terri Alani, affectionately known as the "Texas Tooth Lady," is proud to serve as your cosmetic dentist in Houston. As one of the top dentists in the city, she puts her decades of experience to work to help every one of her patients achieve teeth that are both healthy and attractive. Many patients have already greatly benefited from her smile makeover expertise. Here are what just a few satisfied folks have said:
"Dr. Alani and her team were all amazing and very helpful in answering all my questions regarding the whole veneer process! I could not be happier with the results I received, they look amazing." — Derrick Vu (Google review)
"Dr. Terri Alani and staff are awesome. She's not only a great general dentist, but she's also an excellent cosmetic dentist. Hands down the best dentist in Houston. Thank you." — V Stubbs (Google review)
Veneers have the potential to correct a range of aesthetic flaws, including:
Stains. In some cases, a professional teeth whitening treatment can get rid of stains. However, certain types of discoloration (such as spots from fluorosis) do not respond to bleaching. Sometimes, the only way to correct this unsightly problem is to cover it.
Small gaps. When a child has a gap between their front teeth, it's adorable. The same thing can't be said of adults. Fortunately, you may not need to get braces to close that little gap and achieve a well-aligned smile. Veneers can create the illusion that your teeth are exactly where they should be.
Minor misalignment. If your teeth are a bit crooked, but not to the point where the misalignment threatens your oral health, you may be able to opt for veneers instead of braces.
Chipped teeth. Remember that time you bit down too hard on a jawbreaker and ended up with a chip in your tooth? A veneer can reshape that pearly white and make it look like nothing ever happened.
Teeth that are too small. For your smile to be as attractive as possible, it needs to be proportionate. Some people are plagued by pearly whites that are too small to make you look like a confident adult. Veneers help to make your teeth look bigger, but you may need your gums recontoured as well.
To gain a better idea of exactly what veneers can accomplish, we invite you to take a look at some of our before and after pics as well as our video testimonials below. We think you'll be amazed by what you see! Of course, if you still have questions about whether veneers can address your smile woes, we'd be happy to schedule a personal consultation with you.
More Benefits of Veneers
Veneers in Houston offer a long list of benefits, including the following:
Longevity. With proper care, veneers can last for 15 years or longer before they need to be replaced. Even in the rare instance that one does break or fall off, getting your smile repaired just takes a visit to your dentist.
Resistance to stains. Porcelain is a minimally porous material, which means that it does not stain easily. However, we still recommend that you take care not to expose your teeth to a lot of substances that could stain them. For example, it's a good idea to enjoy coffee and dark wine in moderation and to drink them through a straw. We also recommend that you do not smoke cigarettes or use other tobacco products.
Strength. Even though veneers are quite thin, they offer impressive strength. As long as you are reasonable about how you use your teeth (don't chew on ice, don't use your teeth to open packages, etc.), it's unlikely that your veneers will suffer damage.
Quick treatment. This treatment takes relatively little time, making it a great alternative to braces for folks who have gaps between their teeth or other instances of minor misalignment.
Possible improved oral health. Your veneers are an investment, so you'll probably be motivated to take great care of them. Taking care of them via regular brushing and flossing is also fantastic for the teeth underneath them!
A natural appearance. You don't have to worry that your new look will call the wrong kind of attention to itself. When they're properly crafted and installed, veneers look very natural. That's because they reflect light like that of regular tooth enamel. No one will have to know that you've had work done unless you want to brag about how amazing your veneers are.
Cost of Veneers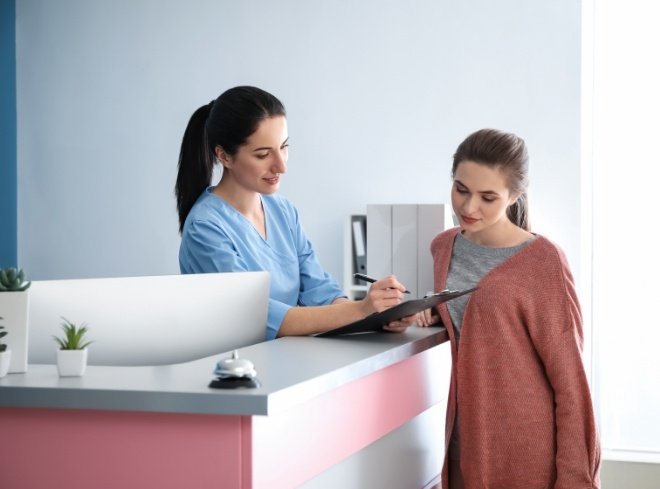 Most dental insurance policies do not help to cover the cost of veneers in Houston. Therefore, you likely have questions about whether you can fit this treatment into your budget.
Let's begin by making it clear that every case is different. The total cost of your smile makeover will depend on several factors, including:
Whether you have your natural teeth whitened beforehand. We often recommend this because veneers do not respond to bleaching, so you will not be able to undergo whitening after the veneers are installed.
Other preliminary work you might need. We want all of our patients to enjoy beautiful smiles, but oral health is always our top priority. Some patients need fillings, gum disease treatment, or other work done before they can focus on the aesthetic aspect of their teeth.
How many veneers you want. As we mentioned earlier, some folks want a single veneer to cover a particularly pesky tooth. Others opt for a comprehensive transformation.
We're always happy to provide estimates on the cost of veneers. Although the treatment is expensive, we encourage you to consider the long-term value. Because veneers last for so many years, they may actually save you money in the long run over bonding or other cosmetic treatments. Besides, can you really put a price on the confidence that comes with a head-turning smile?
We encourage you to talk to us about your payment options. We're happy to accept major credit cards. CareCredit, a low to no-interest healthcare credit card, may also be used to help you break the cost of your porcelain veneers into manageable monthly payments.
Veneers FAQs
Veneers in Houston are incredibly popular, which typically means patients have many questions about them when they learn about their benefits. Dr. Alani is more than happy to answer all of your questions during your dedicated consultation, but she's also more than willing to include a few of the most common questions she's received over the years on her website. If you have additional concerns, please call our dental office directly to schedule an appointment!
Are veneers permanent?
If you plan on pursuing traditional veneers, they will be permanent after they are placed. This is because, in order for them to sit flush and look natural, a small amount of tooth enamel needs to be permanently altered. If the veneers were to come off, this would expose the altered form of your natural tooth enamel.
Do veneers put me at a higher risk of decay or cavities?
There is currently no evidence that suggests that having veneers puts you at a higher risk of tooth decay. However, it is essential that you continue to practice regular brushing with fluoridated toothpaste and flossing at home. You should also maintain routine dental checkups and teeth cleanings at our office so we can confirm the status of your oral health (as well as the condition of your restorations).
Will my veneers look unnatural compared to my unaltered teeth?
Dr. Alani takes all the necessary steps to ensure that your veneers do not stand out compared to your existing teeth. Cosmetic dentistry is one of the few art forms that you don't want others to notice, and she and her team make sure your veneers are perfectly shaded so they blend in with your smile, and not stick out like a sore thumb. We do this by utilizing highly personalized dental ceramics that can be custom-shaded based on your needs.
What if I don't want to remove any enamel?
We understand that not all patients have a lot of enamel to spare. Due to the latest technology, we now routinely use minimal prep veneers. This takes much less enamel removal overall. Furthermore, if your cosmetic concerns are more complex, Snap-On Smiles may be a better alternative as well. We'll go over all of your options before beginning any treatment so you can feel comfortable about your makeover.
Do you have previous examples I can look at?
Absolutely! Dr. Alani stands by her work with pride, which is why she's more than happy to feature a smile gallery on her website. Here, you can not only see smiles that Dr. Alani created herself but patients who received veneers specifically! Many people don't know what to expect when it's time for their cosmetic dentistry appointment, but the smile gallery is sure to put you at ease before your visit.