March 8, 2018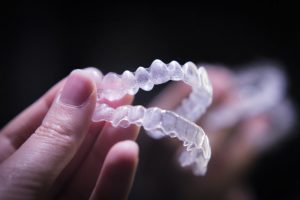 If you're looking to straighten teeth but don't want to go through the frustrating and time-consuming process of metal braces, Invisalign clear aligners offer a unique solution. In just 12 to 18 months, you can have a straighter smile that's easier to clean and more fun to flash at events or in family photos. Before you begin though, your cosmetic dentist in Uptown Houston says you should make sure you aren't allergic to the plastic material it uses. Keep reading to learn more about this treatment and the precautions to take.
What is Invisalign?
Invisalign is an orthodontic product and treatment designed to correct alignment and bite issues. After taking measurements of your teeth, your dentist in Uptown Houston will create a series of nearly invisible, plastic molds you wear to straighten teeth like braces would.
Compared to traditional braces, clear aligners are:
Removable
Disposable
Less distracting
More convenient
Less time-consuming
After about two weeks, you'll replace your current pair with the next one in the set.
How Does an Allergic Reaction Occur?
While it is extremely unlikely, some people can experience an allergic reaction if they have low saliva production or an allergy to the plastic used in the product. This usually results in mild irritation.
If you're allergic to plastic, any physical contact should trigger a reaction. The trays are designed to make constant contact to your teeth, gums, and tongue, so they can all trigger this mild irritation, making treatment more difficult.
How Do I Test for a Reaction?
Before having the trays produced, tell your cosmetic dentist in Uptown Houston if you've had allergies to plastic before or if you fear you'll have one. To help, they'll provide a plastic test before producing a single tray. They'll take a small piece of plastic commonly used for Invisalign in Uptown Houston and attach it to your skin with tape. Then, you'll wear it for a few days to see how your body reacts. If you don't react, you'll be able to begin treatment without worry.
Is the Reaction Serious?
Even if you do have an allergic reaction, it's very rare for it to be serious. While wearing your trays, you mouth may feel more sensitive than normal and your teeth, gums, and tongue may tingle or itch. Reactions are more often mild, so anything outside of these symptoms should be consulted by your dentist right away.

How Do I Stop a Reaction?
If you've already begun Invisalign treatment, a good way to reduce the symptoms of an allergic reaction is to drink plenty of fluids throughout the day. Cold water works best to replace the absence of saliva, so try to drink extra cups of water every day.
It also helps to visit your cosmetic dentist in Uptown Houston for cleanings more often than usual. Instead of visiting twice a year, visit every 3 to 4 months for a cleaning.
Want to learn more about the Invisalign treatment in your area? Visit your dentist today and begin your journey to a straighter smile!
About the Author
Dr. Terri Alani goes above and beyond typical dental care by paying attention to patients' overall health and well-being as well. She's just as passionate about preventive care as she is about making your smile look as good as possible. To learn more about her other cosmetic treatments and practice, contact her at (713) 621-5141 or visit her website.
Comments Off

on Your Cosmetic Dentist in Uptown Houston: Are You Allergic to Invisalign?
No Comments
No comments yet.
RSS feed for comments on this post.
Sorry, the comment form is closed at this time.