April 4, 2018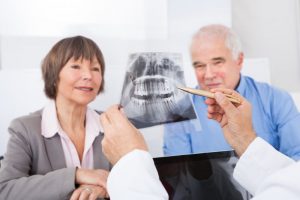 Making your mouth healthy and beautiful is a very high priority for your cosmetic dentist in Uptown Houston, but so is protecting you from other diseases. At first, this might surprise you, but your dentist is actually capable of catching disease early thanks to markers that appear in the mouth. With this in mind, your dentist acts as another line of defense in the fight against diseases like diabetes, oral cancer, and many other conditions.
April is Oral Cancer Awareness Month, so let's start with that!
Oral Cancer
Did you know that oral cancer is one of the most common types of cancer diagnosed in the United States? Approximately 50,000 people are diagnosed with oral cancer every year, with 9,000 people dying annually. However, when caught early by your dentist, the survival rate is much higher. The signs of oral cancer usually include red or white lesions on the palate, tongue, and other areas inside the mouth.
To catch oral cancer in its early stages, it's essential that you visit your dentist in Uptown Houston every six months.
Infections
Infections can appear after a dental procedure, forced trauma, or just from poor oral hygiene. These can easily spread bacteria to other areas of the body and cause complications if not promptly treated with antibiotics. The signs of infection include severe oral pain, swelling, fevers, and redness in the gums.
Diabetes
If a patient doesn't know that they have diabetes, then they won't realize that they're less capable of resisting disease. It also negatively affects their ability to heal infections. Markers for diabetes in the mouth include loose teeth, dry mouth, and either receding, bleeding, or dry gums.
HIV
While these signs don't guarantee that a patient has HIV, it's enough to make a dentist recommend that they get tested by their primary care physician to find out for sure. If your dentist notices oral warts, lesions, or spots on that tongue that appear red, white, purple, or brown, you may want to get tested.
Osteoporosis
While this condition is more common in post-menopausal women, it can still happen to anyone. The signs of osteoporosis include loose teeth or a receding gum line, indicating a change in the bone that supports teeth. If your dentist notices these signs during your exam, she'll likely recommend you have a bone density test.
Eating Disorders
Patients who suffer from disorders such as bulimia are not likely to tell others about their condition. However, a dentist knows that dry mouth, bleeding gums, and erosion on the insides of the front teeth indicates a patient is frequently purging their body.

High Stress
Did you know that people who have high amounts of stress are more susceptible to bruxism, also known as teeth grinding? Even worse, stress can cause grinding to occur while you're asleep. Luckily, your dentist can tell if you're grinding after examining your teeth.
Visiting your cosmetic dentist doesn't just protect your oral health. Schedule an appointment with her today to confirm your not at risk for more serious disease!
About the Author
Dr. Terri Alani's focus is cosmetic dentistry, but that doesn't mean she doesn't go the extra mile to make sure her patients' overall health is in good shape too. To learn more about her preventive treatments, contact her at (713) 621-5141 or visit her website.
Comments Off

on Your Cosmetic Dentist in Uptown Houston Protects Your Overall Health!
No Comments
No comments yet.
RSS feed for comments on this post.
Sorry, the comment form is closed at this time.