September 16, 2018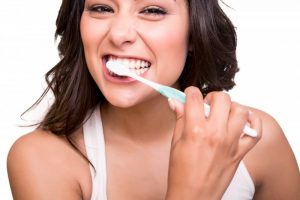 Whitening toothpastes can be effective, but only to a certain point. If you're trying to remove common surface stains caused by the foods you eat, whitening toothpastes can improve the shade of your smile. However, according to your cosmetic dentist in Uptown Houston, there are better treatments out there, especially for deeper discoloration. Today, your dentist will discuss what to expect from whitening toothpastes.
Which Whitening Toothpastes Work Quickly?
If you want to remove surface stains caused by yellowing beverages like coffee, tea, wine, and juice, look for a whitening toothpaste that contains blue covarine. This chemical diminishes the appearance of yellow teeth almost immediately. Since typical whitening toothpaste takes several weeks to provide results, this is an appealing option, however it won't have the same long-term results.
How Do I Get Long-Term Results?
When using whitening toothpastes, expect results to appear after several weeks of daily use. This means brushing at least twice a day. If your toothpaste doesn't contain blue covarine, see if they have any of the following ingredients:
Hydrated aluminum oxide
Calcium carbonate
Magnesium carbonate
Carbamide or hydrogen peroxide
What Should I Consider Before Purchasing?
While the process is voluntary, toothpastes that earned the ADA's Seal of Acceptance have undergone additional evaluation to prove their safety and efficacy. Keep in mind that even with the seal, whitening toothpastes typically come with potential risks, including tooth sensitivity and mild irritation after use.
Additionally, whitening toothpastes also have the potential to remove very small amounts of tooth enamel, exposing the dentin underneath. This can cause your teeth to appear darker or more discolored.
Should I Use Over-the-Counter Bleaching Products?
For patients looking to improve the overall color of their smile rather than remove surface stains, over-the-counter whitening trays or strips are a better choice compared to whitening toothpastes. These also require several weeks of application before results appear.
What Can I Gain from Professional Whitening?
If you want to get the best results in the least amount of time possible, you should consider Zoom! Whitening provided by your cosmetic dentist in Uptown Houston. Unlike toothpastes or whitening trays, Zoom! uses a higher concentration of bleaching agents. This produces better results in less time.
Whether you're trying to remove surface stains caused by food, beverages, and tobacco, or gray stains typically caused by medications, genetics, or aging, Zoom! can handle it. Common stains typically respond to a single one-hour treatment in-office, but more stubborn stains react best when also combined with at-home treatment through custom-made whitening trays. These trays are worn for up to two weeks after your initial whitening.
Your new smile should last several months before needing a touchup, as long as you practice daily oral care and avoid staining foods, beverages, and tobacco products.
About the Author
Dr. Terri Alani offers top-notch dentistry and one of the most effective teeth whitening treatments out there. To learn more about smile makeovers or get a second opinion from your dentist in Uptown Houston, contact her at (713) 621-5141 or visit her website.
Comments Off

on Whitening Toothpastes: What Your Cosmetic Dentist in Uptown Houston Thinks
No Comments
No comments yet.
RSS feed for comments on this post.
Sorry, the comment form is closed at this time.