October 7, 2018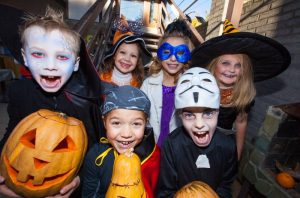 According to reports on accidents during the holidays, Halloween experiences twice as many accidents involving pedestrians and vehicles compared to any other night of the year. That includes Independence Day, New Year's Eve, and even Christmas. With such a high risk of accidents, it's more important than ever to teach your children the right steps to be safe, whether they're with you or out on their own.
Before they start their candy collection, ask yourself these questions and take the time to address them beforehand. According to a cosmetic dentist in Uptown Houston, you just might prevent a broken tooth in the process.
Can Your Child See at Night?
If your child is wearing a mask, they may want to reconsider, assuming they're going to be trick-or-treating once it gets dark. Masks not only restrict their sight, but their ability to hear if it covers their entire head.  Instead, have them wear face paint, which can be an incredibly fun activity on its own! Make sure they keep flashlights on them as well for extra visibility.
How Visible Are They?
It's just as important for your child to be visible to drivers since neighbors are likely going to be having costume parties in the neighborhood. Dark costumes only put them at even higher risk, so see if you can get them to wear brightly colored costumes and candy bags. Use reflective tape on their costumes, shoes or bags as well.
Can They Walk Easily?
High-heeled shoes or shoe coverings can easily cause your child to fall. Have them wear normal walking shoes instead. Make sure no loose fabric from their costume has the potential to cause tripping.
Do They Have a Friend or Group to Go With?
If your child is 12 years old or younger, they should be accompanied by an adult. If they are older, they should still walk with another trick-or-treater close to their age. Your child should try to be part of a group of three to six other kids so drivers can see them.
What Houses Are They Going To?
Children should not be going towards homes where no lights or decorations are visible. Not only does it imply they aren't handing out candy, but the ground is generally more difficult to see.
What is Their Route?
Establish a specific route so you know where your child is. This is especially important if you know they aren't being accompanied by an adult.
Do They Need Cell Phones?
Children without cell phones should always be with an adult who has one. This way they can easily contact you should something go wrong.
Are They Eating and Walking?
For extra precaution, make sure your children avoid snacking on candy until they get home. This will give you time to examine it closely and confirm none of it has been tampered with. Do not allow them to eat foods that are improperly sealed.
Looking for more advice this Halloween? Schedule an appointment with a dentist in Uptown Houston today!
About the Author
Dr. Terri Alani earned her DDS degree from the University of Texas Houston. She works hard to help patients of all ages maintain a healthy and beautiful smile for years to come. To learn more about her practice, contact her through her website.
Comments Off

on Cosmetic Dentist in Uptown Houston Gives Halloween Safety Tips
No Comments
No comments yet.
RSS feed for comments on this post.
Sorry, the comment form is closed at this time.