January 2, 2019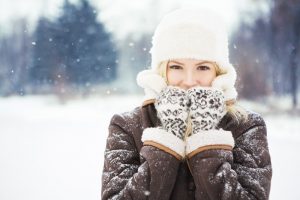 You've probably felt some form of tooth sensitivity or pain after consuming a hot or cold food or beverage. This phenomena is actually quite common since most people have experienced some form of enamel erosion. But it's important to keep in mind that the things you consume aren't the only form of external stimuli that can cause this discomfort. For example, cold weather can also be a culprit.
To understand why this occurs and what a cosmetic dentist in Uptown Houston recommends you do to alleviate it, keep reading!
How Does Cold Weather Affect My Teeth?
Not only can extreme cold weather affect your teeth, but extreme heat as well. This is because, much like the foods you eat, hot and cold weather cause teeth to expand and contract. This can cause your teeth to crack, which exposes the tubules inside the dentin layer directly underneath your enamel. If you've ever felt pain as a result of cavities or gum disease, then you already know what this sensation feels like. The only time you'll begin to feel discomfort is when the dentin layer becomes exposed. This is because dentin contains many nerve fibers, unlike tooth enamel.
Keep in mind that the weather can cause sensitivity for just about anyone, but your risk goes up if you don't practice proper oral hygiene. Furthermore, there are other causes to consider.
What Could Have Caused My Sensitivity?
There are many causes for dental sensitivity. To reduce it, you'll need to consider the most common causes. These include:
Brushing too hard or for too long
Gum disease
Bruxism (teeth grinding or clenching)
Tooth decay
Teeth whitening treatments
Acidic beverages or foods
Tobacco products
Poor oral hygiene
How a Dentist in Uptown Houston Can Help
If you've tried making changes but nothing seems to be improving your sensitivity, it may be time to visit a dentist for additional treatment. Fortunately, dentists offer multiple treatments specifically designed to reduce pain and sensitivity, including:
Fluoride application – This works to add fluoride minerals to teeth which strengthens enamel and prevents sensitivity.
Dental sealants – This composite resin application seals cracks in teeth and prevents future exposure to the dentin layer.
Nightguards – If you clench or grind your teeth while you sleep, a custom-made nightguard can be made to fit your smile exactly.
Root canal treatment – As a last resort, you may need a root canal to remove soft pulp inside your damaged tooth. If you have deep decay or a cracked/chipped tooth, this may be the only viable option.
If you're experiencing tooth sensitivity or pain on a regular basis, it's time to visit a dentist for treatment. They're trained to provide solutions proven to help those suffering from oral discomfort, so schedule your next visit today!
About the Author
Dr. Terri Alani always makes patient care her number one priority. By concentrating on their overall health and well-being as well as their dental health, she makes the process of receiving necessary treatments to curb sensitivity easier to manage. If you're suffering from pain or sensitivity, feel free to contact her through her website and schedule an appointment.
Comments Off

on Cosmetic Dentist in Uptown Houston: Cold Weather Can Cause Tooth Pain
No Comments
No comments yet.
RSS feed for comments on this post.
Sorry, the comment form is closed at this time.