May 2, 2019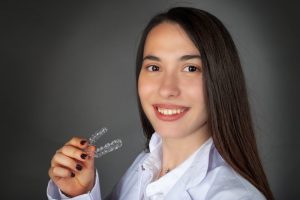 Summertime is all about fun in the sun, hanging out with friends and family, and relaxing by the beach. Weekends are an excuse to get out, have a great time, and make plenty of memories. With the weather warming up, you're probably already working on your tan, but why not your smile, too? You can say goodbye to crooked teeth and hello to a new, straighter smile with Invisalign in Uptown Houston. How? Let us explain.
Why Should I Straighten My Teeth with Invisalign?
If you're hoping to avoid the embarrassing look of metal braces and want an alternative to achieving straighter teeth, look no further than Invisalign. With summer just around the corner, why wait to get the smile you've always dreamed of. With Invisalign, you can straighten your teeth while working on your summer tan! And the best part is that no one has to know you're getting treatment!
Forget the bulky brackets and wires, irritated gums, and frequent trips to the dentist in Uptown Houston for adjustments. Invisalign braces are clear, plastic trays that are a more flexible option for the busy adult like yourself.
What Are the Benefits of Invisalign?
You've heard about Invisalign, and your orthodontist has probably even explained how they work. But if you're still apprehensive about their effectiveness, here are some benefits that come with being treated with Invisalign.
Minimal discomfort: Don't want the feeling of metal rubbing against your gums, cheeks, tongue or lips? It's understandable, but with Invisalign, there's no irritation! Your trays are smooth so your soft tissue will stay free from irritation.
Customized to your needs: Once the dentist maps out a treatment plan for you, you'll receive customized aligners. Each set is designed to take your teeth to the next step, moving them closer to the desired location.
Removable: With traditional braces, you can't remove all that metal. With Invisalign, you're actually instructed to remove your aligners prior to eating and/or drinking. They're not made to withstand the pressure of biting and chewing, so always make sure to remove them before you start chowing down at your favorite burger joint.
Clear: Invisalign is great if you want to keep your treatment a secret. Made of clear plastic, others will never know you have them in!
Fewer trips to the dentist: Don't enjoy the back and forth trips to the dentist? With traditional braces, you'll be seeing your dentist a lot more frequently because of the necessary adjustments to move your teeth. With Invisalign, you have the sets at home, so you'll only need to visit your dentist a few times throughout the duration of your treatment. This is to ensure everything is progressing as it should.
Faster results: If the idea of wearing braces for three years or more doesn't sound like much fun then Invisalign is most certainly the better option. Depending on your individual treatment, you can be finished with Invisalign in one to two years.
Don't let another summer go by with crooked teeth showing in your pictures. Get started on your straighter smile today with Invisalign!
About the Author
Dr. Terri Alani, DDS, graduated from Texas A&M University with her Bachelor of Science before going on to the University of Texas Houston to earn her Doctor of Dental Surgery degree. For 30 years, she has helped her patients achieve beautiful smiles. If crooked teeth have you hiding from the spotlight, Dr. Alani and her team can get you on the path to a straighter, more beautiful smile with Invisalign! To learn more about this beneficial treatment, contact us at (713) 621-5141.
Comments Off

on How to Get Straighter Teeth by Summer with Invisalign in Uptown Houston
No Comments
No comments yet.
RSS feed for comments on this post.
Sorry, the comment form is closed at this time.