May 5, 2020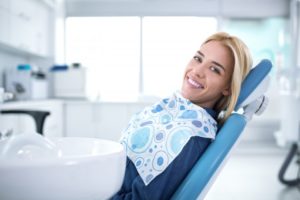 Dental teams take infection control practices very seriously, whether there's a pandemic occurring or not. Generally, this includes washing their hands thoroughly throughout the day and wearing personal protective equipment while seeing patients (such as a mask, gown and gloves.) With the COVID-19 pandemic present and ongoing, visiting a dentist in Uptown Houston doesn't mean you need to take a risk. Below, you can learn exactly what dentists are doing to protect your overall health while they examine your oral health.
Safety Champion
Whether it's on a construction site or in a dental office, having a dedicated safety champion is important to ensuring all team members are following the proper protocols established at the beginning of the work day. In the context of a dental office, this includes reminding all team members to practice steps related to infection control and reducing disease transmission. They'll also make sure that everyone inside the practice is social distancing, monitor areas of cleanliness, greet patients and answer any questions they might have. Safety champions will also make sure that everyone within the practice is taking additional hand hygiene measures, which includes removing jewelry and keeping fingernails tidy.
Daily Health Checks of Team Members
In order to reduce exposure to harmful viruses like COVID-19, team members need to have daily health checks to confirm that no symptoms of the virus are present before they begin work. While this includes contactless temperature checks, it also involves detailed questionnaires focusing on the most common symptoms of COVID-19 (or any other viral disease.) For example, if a team member has a recent history of a bad cough or shortness of breath, they cannot work inside the practice.
Changing Work Clothes Before Leaving the Office
You may have seen dental workers outside of the office still wearing their scrubs, but that changes in the age of COVID-19. Instead, they'll be expected to change into different clothes before leaving the dental office. Work clothes will either be disposed of in a proper receptable or properly sanitized before they can be used again.
Transforming Waiting Areas
Many dental practices are opting out of having waiting areas and even removing magazines and chairs from the front office to reduce the spread of germs. This means patients will need to wait in their cars instead and be contacted through their phones before having permission to enter the building. This protocol works in tandem with social distancing as it is much easier to ensure patient safety with fewer people in the office at a time.
Modifying Appointment Scheduling
To reduce the number of people in the office further, fewer appointments can be scheduled in a given day. Additionally, patients will be given more time to address their concerns and families will be more capable of getting multiple family members seen in one visit, rather than across several appointments.
These are only a handful of the many precautions dentists are taking to ensure safety during COVID-19. If you're in need of dental care, whether it's for a routine appointment or an emergency, don't wait to give the dentist a call!
About the Author
Dr. Terri Alani is just as dedicated to making your dental appointment safe as she is to giving you a smile that is healthy and attractive. Through her strict infection control practices, her and her team members will make you feel confident about your oral and overall health, no matter what your needs might be. To learn more about these protocols or schedule an appointment, you can contact her through her website.
Comments Off

on How Dental Teams Prepare for Patients During the COVID-19 Pandemic
No Comments
No comments yet.
RSS feed for comments on this post.
Sorry, the comment form is closed at this time.