October 22, 2020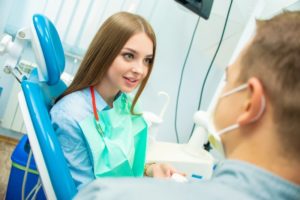 Did you know that October is National Dental Hygiene Month? Considering it's the same month that Halloween occurs, it's not that surprising that dentists around the country are using it as an opportunity to teach patients the importance of maintaining a healthy smile. If you've been looking for ways to brush up on your routine, let a dentist in Uptown highlight 5 essential oral hygiene tips to help you get started!
Always Brush Before You Go to Bed
Brushing in the morning matters but failing to do so before bed can be detrimental to your oral health. Not only can food debris get stuck in between your teeth and cause bad breath throughout the night, but bacteria thrive off of this debris and generate large amounts of plaque as you sleep. This directly increases your risk for cavities and gum disease. On top of brushing before bed, make sure to brush for at least two minutes and don't forget to brush your tongue!
Don't Neglect Your Flossing Habit
Flossing is just as important to your oral care because it reaches areas of the mouth that no toothbrush can, including electric and sonic brushes you may read about online. If you struggle to floss traditionally, consider purchasing floss picks which are both handheld and easy to use while on-the-go!
Add Mouthwash to Your Routine
While using mouthwash is not necessarily required to keep your oral health in check, it's certainly a great way to be extra thorough. When choosing a mouthwash, make sure that it contains fluoride to provide extra protection for your enamel. Skip oral rinses that contain alcohol as these can actually dry your mouth out.
Reexamine Your Current Diet
Brushing and flossing is necessary to keep cavity-causing bacteria at bay, but it's just as important to take a closer look at the foods you're eating throughout the day. For example, start by making sure you are drinking enough water to avoid dry mouth. The more water you drink, the better your saliva production. Saliva plays a major role in washing away harmful bacteria and food debris. You'll also want to reduce your consumption of sugary and acidic foods and beverages (i.e. teas, coffee, candy, soda, etc.) and start eating more fruits and vegetables.
Stay on Top of Checkups and Cleanings
No oral care routine is complete without a comprehensive exam and cleaning from a dental professional! Not only can they make sure no hidden problems are present in your enamel and gum tissue, but they can confirm that your oral care routine is working as intended.
October is the perfect time to visit a dentist for a routine checkup. To celebrate National Dental Hygiene Month to the fullest, give a dentist a call today!
About the Author
Dr. Terri Alani has been a dentist for over 30 years and has training in many aspects of dentistry, including preventive, restorative and cosmetic treatments. For the past several years, she's been rated as one of Houston's Top Dentists and enjoys helping patients perfect their at-home oral care routines. To learn more about her practice or schedule an appointment, you can contact her through her website.
Comments Off

on 5 Ways to Protect Your Smile During National Dental Hygiene Month
No Comments
No comments yet.
RSS feed for comments on this post.
Sorry, the comment form is closed at this time.