November 2, 2020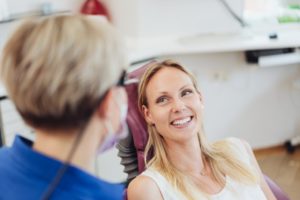 Many people don't know it, but oral health is not exclusively separated from your overall health. In fact, chances are if you have good oral health, you have positive systemic health as well! This is just another reason why it's so important to maintain routine visits and make the most of dental benefits while you have access to them. Here are three tips to keep in mind so you can maximize dental insurance benefits.
Want to Save on Dental Costs? Prevention is Key
If you aren't sure how to get started on making the most of your dental benefits, start by confirming you've completed your routine exams and cleanings for the year. Not only do they help you achieve a clean and plaque-free smile, but they give you peace of mind that your oral health is in good condition and no underlying problems are present. On top of that, most insurance plans cover the majority of the costs associated with preventive care.
Understanding What Is and Isn't Covered
It's true that most dental plans are designed to prioritize preventive coverage. However, that doesn't mean you can't use your benefits to complete other forms of care. For example, if you've needed to have a dental filling placed to restore a damaged tooth (or silver amalgam fillings removed for replacement composite resin fillings), you can often receive coverage. Additionally, crowns often get coverage because they are medically necessary to protect damaged enamel and prevent them from breaking apart further. With that said, every plan is different, so it's important to look over the details of your plan's stipulations yourself or with the help of a dental team.
Get Scheduled Before January 1st
Most plans offer a fixed amount they will pay for care in a year, but this amount resets. This means any leftover money doesn't rollover into the following year. You'll find that this is how benefits work in most dental insurance plans, but it helps to read the details of your coverage or discuss them with a dentist directly if you need guidance. If you don't use your benefits before January 1st, you'll need to pay your deductible again just to access them. Additionally, plans can change every year, so it's wise to take advantage of your benefits before some may disappear.
With these few tips in mind, you can potentially save thousands on dental services. If you want to know more about how to get the most out of your plan, it's worth talking to a dentist directly.
About the Author
Dr. Terri Alani and her team are happy to file insurance claims on your behalf as well as accept most dental plans. As a general and cosmetic dentist with over 30 years of clinical experience, she offers services that cannot only make your smile look the way you want, but keep it healthy. Want to schedule an appointment or learn more about her practice? You can contact her through her website.
Comments Off

on 3 Tips to Know When Maximizing Dental Insurance Benefits
No Comments
No comments yet.
RSS feed for comments on this post.
Sorry, the comment form is closed at this time.