December 30, 2020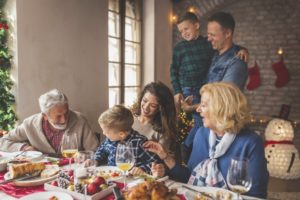 While many people love getting ready for the holidays, whether it's through wrapping gifts for Christmas, lighting the menorah for Hanukkah, or figuring out resolutions for the new year, there's one thing everyone can enjoy: eating holiday foods! Of course, that doesn't mean all holiday dishes are created equal, especially when it comes to your oral health. If your goal (or resolution) is to maintain a healthy and beautiful smile going into the new year, a dentist in Uptown Houston says you should do your best to avoid these popular holiday options as much as possible.
Candy Canes
It's no secret that just about any hard candy (including this holiday favorite) are not going to be recommended by a dentist. After all, not only are hard candies made from pure sugar, but they stay in the mouth for extended periods of time. This dramatically increases your risk for plaque development and cavities. On top of that, candy canes are so hard that they can actually crack or chip teeth if you aren't careful, so it's not even worth to risk to have them in moderation.
Eggnog
Some people hate it, but others absolutely adore a glass of eggnog. However, it's worth noting that it has an exceptionally high amount of sugar. If you really want to celebrate the holidays with an alcoholic beverage this year, go with something that is less sugary. This also means avoiding mixers like soda, which can easily have as much sugar content as eggnog.
Dried Fruit
Many people assume that dried fruit is not only a reasonable treat during the holidays, but actually healthy. Unfortunately, foods like dried berries or other fruits can be quite deceiving. In many cases, dried fruit comes packed with added sugar, putting you at risk for decay. Furthermore, it can easily get stuck to teeth, allowing oral bacteria to consume it and produce plaque acids that attack the teeth and gums. Opt for fresh fruit whenever possible instead.
Sugary Baked Goods
Filled with sugar and starch, two ingredients that are detrimental to oral health, cookies, rugelach, cakes, and other foods should either be avoided entirely or consumed strictly in moderation. If consumed, you should brush and floss your teeth soon after as food particles can easily get caught in between teeth and stay there for hours on end.
It can be difficult to skip out on the holiday treats this year, but consider it a favor for your long-term oral health. With that said, a dedicated oral care routine and regular professional checkups can keep most decay and gum disease at bay. If you haven't set up a checkup yet, don't hesitate to schedule an appointment with a dentist today!
About the Author
Dr. Terri Alani has decades of experience in her field, whether it's in helping you protect your smile from dental disease during the holidays or creating cosmetic makeovers that transform your smile's appearance from top to bottom. No matter your dental needs, she's sure to make you feel confident and accommodated this holiday season. To set up your next appointment, you can contact her through her website.
Comments Off

on Which Foods Should You Avoid This Holiday? A Dentist Explains
No Comments
No comments yet.
RSS feed for comments on this post.
Sorry, the comment form is closed at this time.