April 19, 2021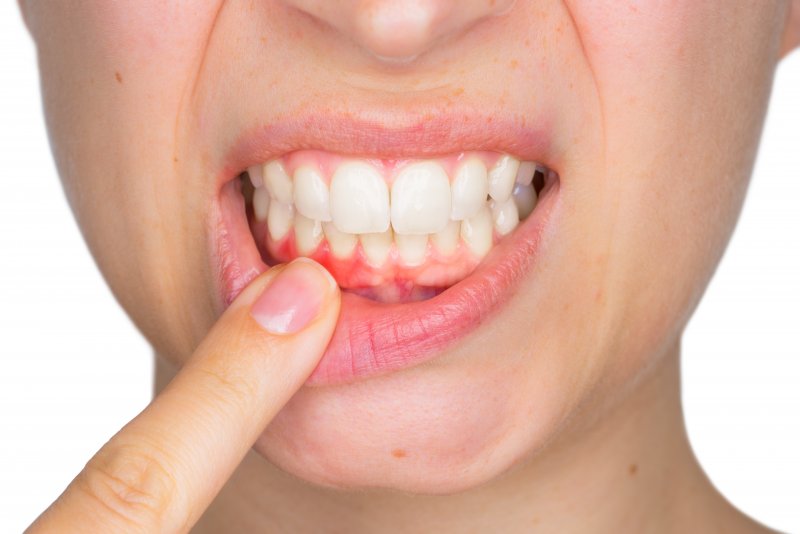 The gums hold far more responsibility than you might initially give them credit for. For example, they play a major role in protecting the more vulnerable areas of your teeth that are not strong enough to withstand acids created by plaque and bacteria like enamel can. If you've noticed that your teeth are more visible or appear longer than usual, it's a sign that something is wrong. This phenomenon, known as gum recession, is a warning sign of a more serious problem called periodontal disease. To learn the causes of gum recession, how to address it, and what to do when it's become too far gone, keep reading!
What Can Cause Gum Recession?
There are a number of reasons why gums recede, but the most common one by far is due to periodontal (gum) disease. This occurs when the gums become infected due to unremoved plaque and tartar remaining on teeth for too long. However, the gums can also recede due to:
Your family's genes
Brushing or flossing too hard
Changes in hormones (such as during puberty, pregnancy, or menopause)
Tobacco use
Grinding and clenching your teeth
Crooked teeth or a misaligned bite
While making positive changes in your habits can work to reduce gum recession, sometimes professional intervention is necessary as well.
How to Manage Gum Recession
If the gums are receding, it's important to visit a dentist as soon as possible so they can confirm the severity of the recession. To address it, dentists often recommend scaling and root planing, a two-phase therapy that works to remove plaque from above and underneath the gumline, as well as promote reattachment of the tooth roots to the gums. In other cases, antibiotics may be provided as well to promote healing in between regular periodontal visits. These appointments are often performed every three to four months, making them more common than routine biannual checkups.
What is a Gingival Mask?
Following the completion of periodontal therapy, your gums may still look receded, making it more difficult to show your smile with confidence. That's where gingival masks come in. These artificial and removable gums work to improve the appearance of your smile. They are made from gum-colored, surgical silicone, making them incredibly easy to place over teeth. However, they can also be made from other medical-grade materials.
There's no need to complete any surgery or regenerative procedures with a gingival mask, making them ideal for those looking for a less invasive solution to the side effects of gum recession. If you're struggling with this condition, don't hesitate to contact a dentist today and start taking care of your long-term gum health!
About the Author
Dr. Terri Alani is highly trained not only in protecting the oral health of her patients, but providing cosmetic dental treatments that work to restore their smile's appearance to the fullest. Her gingival masks and periodontal therapies using soft tissue diode laser dentistry are the perfect way to take your gum health into your own hands. To schedule an appointment with her office, you can contact her through her website.
Comments Off

on What is Gum Recession and What Can You Do About It?
No Comments
No comments yet.
RSS feed for comments on this post.
Sorry, the comment form is closed at this time.